WHY YOU SHOULD USE A BUYER'S AGENT IN YOUR HOME SEARCH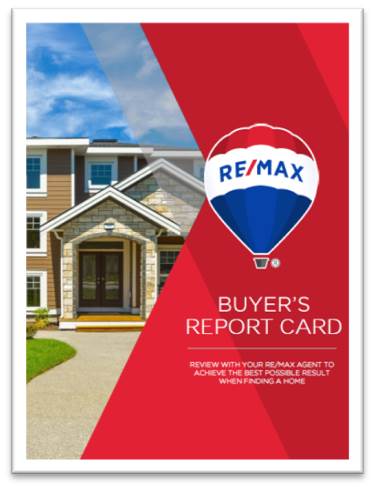 Buying a home is probably the largest investment you'll make in your lifetime. Having an experienced, knowledgeable RE/MAX professional representing you in this transaction just makes good sense.

Buying a home is not like buying a car, a mutual fund or other commodity. It can be a life-changing event. RE/MAX agents fully understand the real estate process – and just as important, they understand your local market.

Of course they know the right steps to take, but they can also help you avoid a misstep in your home purchase. If a new freeway is going to be built a few blocks away, they'll probably know it. If you're unsure about school districts, they'll be able to direct you to answers. If you're unsure of a builder's reputation, they'll know how you can confirm it.

Your RE/MAX Sales Associate also performs another important function: minimizing the emotion involved in a home transaction. You may be in love with a home, but your agent can point out factors that might not make it right for you.

WORKING WITH YOUR BUYER'S AGENT


Selecting the right real estate agent to help you buy or sell your home is essential to a smooth transaction. For the best possible experience, you should consider a professional's background, personality and responsiveness.

Here are some tips to help you choose and work with your Buyer's Agent.

How to choose a Buyer's Agent


Consumers who do their homework can save thousands of dollars and experience a smooth transition. So don't waste time and resources – decide what's most important to you, and then find a professional who specializes in that area. A RE/MAX On the River agent can help you no matter what your needs are.
Ask friends and family members for referrals. Someone you know and trust may have a RE/MAX On the River agent in mind to help you meet your real estate goals.
If you've already determined where you'd like to live, drive through neighborhoods in the area and survey them for REALTOR® yard signs. Seeing the same name pop up on signs time after time may indicate that the agent is a specialist in the area. If you're thinking about selling, monitor the signs in your own neighborhood.
Moving far away? On www.remax.com, you can connect with a RE/MAX agent around the world who can offer great expertise and service. Consider services they offer, additional certifications, any specialties, and languages they speak. You'll find the right professional to meet your real estate needs no matter where your home search takes you.
Pay attention to credentials. This will help you determine areas of expertise. You may be interested in these designations: ABR (Accredited Buyer Representative), CDPE (Certified Distressed Property Expert), LHMS (Certified Luxury Home Marketing Specialist), CRS (Certified Residential Specialist) and SRES (Seniors Real Estate Specialist). There are dozens of designations pursued for continuing education, so identify one or more that fit your needs.

What to ask in the initial meeting


Ask the agent how often you should expect to hear from him or her. Know how and when you will communicate to avoid unrealistic expectations.
Ask how long the agent has been licensed and how many buyers and sellers he or she has helped.
Ask about designations. Interest in continuing education is a strong indicator of motivation and professionalism.
Pay attention to the agent's listening skills. Does he or she cut you off before you've finished a sentence? There's nothing worse than looking at houses you have no interest in because the real estate agent has not listened carefully to your needs, or having your home on the market too long because it's priced incorrectly and the wrong buyers are being targeted.
Ask the agent what his or her fee structure is. Does he or she require a percentage of the sales price or work for a flat fee? Will the agent be paid another way?