To donate to Our Neighbors' Table: please visit https://rem.ax/ont
To donate to The Boys & Girls Club: please visit https://rem.ax/bgc

The last few months have been difficult, to say the least. Everyone has had to adjust in some way, adapt to new and rapidly changing conditions or accept an unexpected new normal. For some in our communities, it was already a challenge to get enough to eat, and recent events have made that reality even more dire for even more people.
We are fortunate to have organizations such as Our Neighbors' Table and the Boys & Girls Club of Lower Merrimack Valley who do a wonderful job helping to alleviate food insecurity. We feel that one of the best ways we can make a difference is to help them do so!
RE/MAX On the River is asking you to join us in feeding our neighbors in need.
We will contribute up to $5000 to both Our Neighbors' Table & The Boys & Girls Club of Lower Merrimack Valley and we are hoping that contribution will double with the help of our friends and community.
For every dollar that you donate to either charity through this fundraiser, we will match it. Please help us get to $10,000 for each organization.
Why Our Neighbor's Table and The Boys & Girls Club?
ONT has always been a source of community and connectedness. Their priority is and will continue to be ensuring that people have consistent, reliable access to food, and as always, they do it with kindness. They are serving a surge of new neighbors who face economic uncertainty in the coming weeks and months. In addition to the 600 households they were already serving each week, they've already registered 65 additional households, with nearly 200 additional mouths to feed.
The Boys and Girls Club of the Lower Merrimack Valley in conjunction with the Triton School District is delivering meals to 50 families daily, and also delivering on Fridays enough food to get them through the weekend.
So we ask everyone who can, to pitch in. If you can give $10, give $10. If you can give $100 or more, now is the time. Our neighbors are counting on Our Neighbors' Table and The Boys and Girls Club when they have nowhere else to turn. Are you in a position to help? Every dollar matters, please give what you can.
Thank you and be well!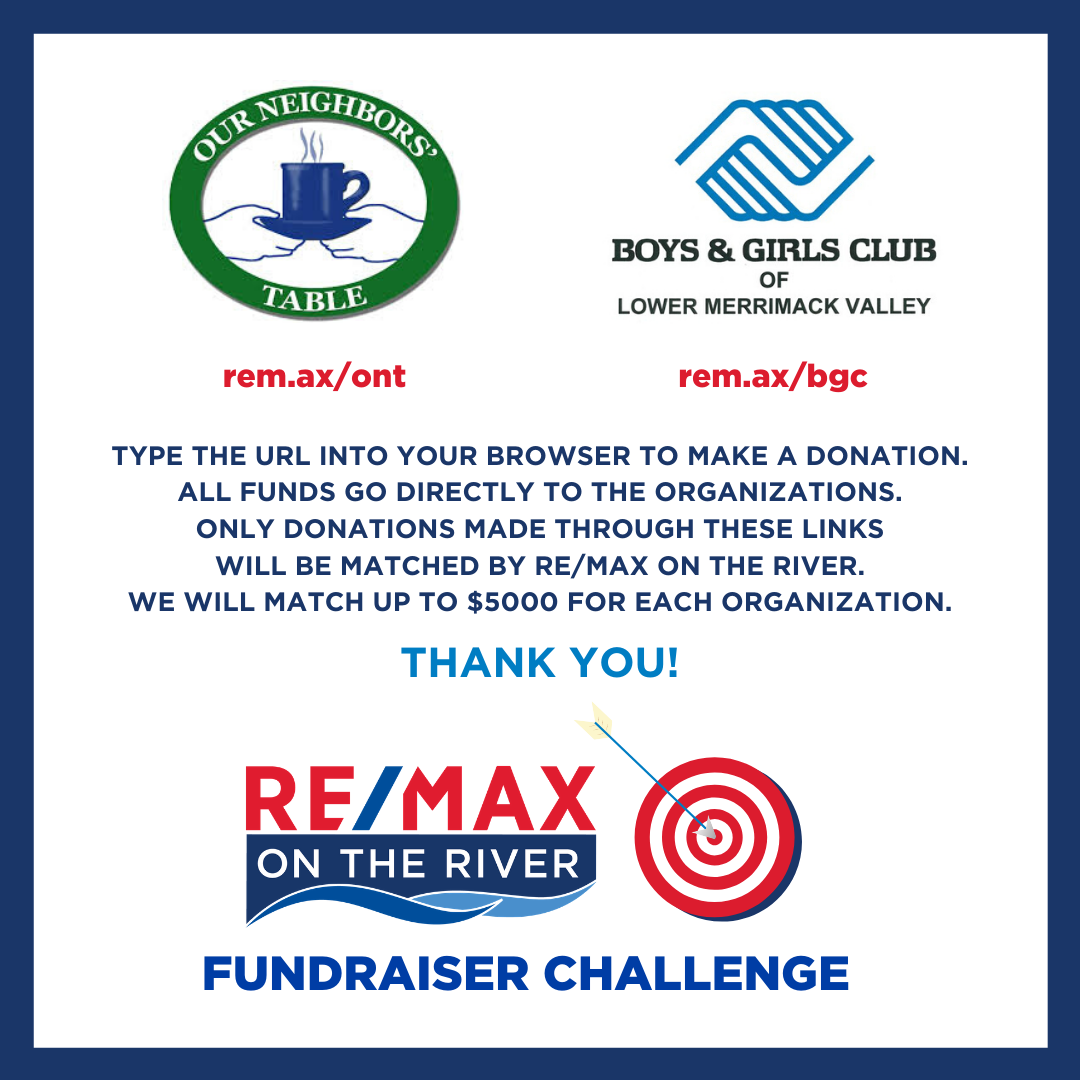 *All donations go to the charities. Only donations made through these links will be matched by RE/MAX On the River. RE/MAX On the River will match up to $5,000 for both of these organizations.