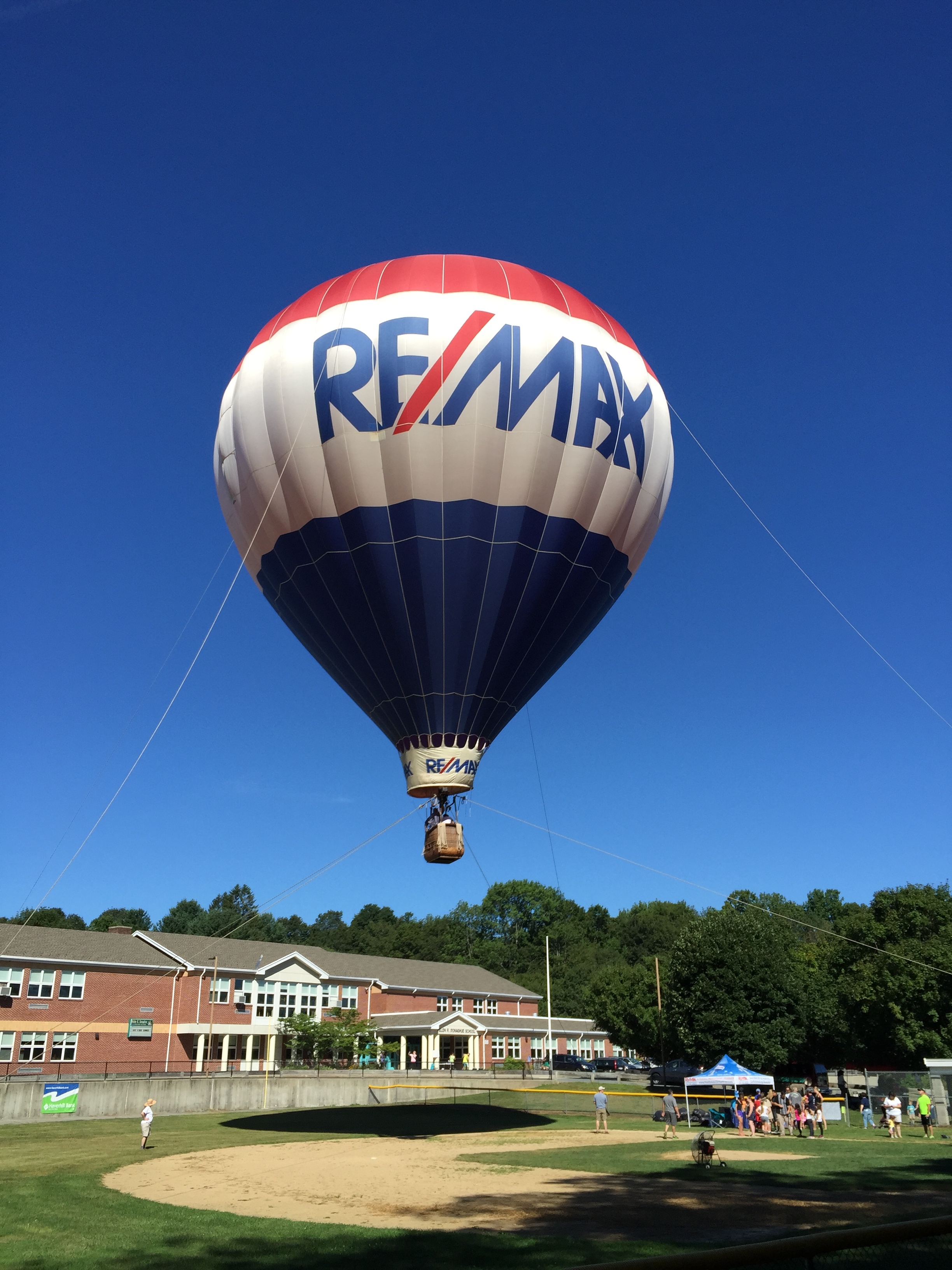 There are over 100 RE/MAX balloons in the world and we're fortunate that there is one right here in New England and that we can bring it to local festivals like Yankee Homecoming and Merrimac Old Home Days. We get lots of questions about the balloon rides so we decided to share all the details and information here for you!
This year, the balloon will be at Yankee Homecoming Family Fun Day at Maudslay State Park on Saturday August 3rd. We set up in the big field right across from the parking lot. We're a little bit separated from the rest of the Family Day activities just because of the space we need for the balloon. The rides are tethered, meaning the balloon goes straight up and back down, we don't fly around the area. Hot air balloons don't have any mechanism for steering so we would go wherever the wind takes us, and we can't be sure there would be a spot to land!
The balloon arrives in a trailer towed behind a pick-up truck.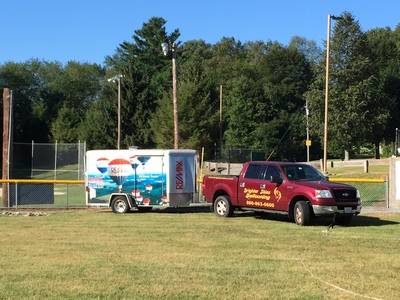 It is packed right into its basket so the first thing we need to do is bring that out and tip it over on its side so that we can unfold the balloon. Once unfolded, it is almost as long as the distance from home plate to the center-field fence on a little-league field! The next step is to inflate the balloon! The pilot will fire up the burner, and a giant fan will blow the hot air into the balloon. It takes two people to hold the bottom of the balloon open while this happens. As the balloon fills with hot air, it starts to rise and eventually tips the basket right side up. It's really impressive to see the size of the balloon when it's fully inflated! If you want to watch the set-up, we suggest arriving around 9:00am.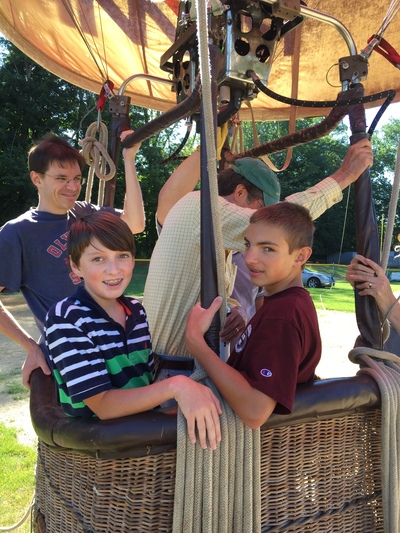 Once the balloon is tethered to heavy vehicles on the ground, and the crew is manning the lines, the pilot gives the ok and we are ready for passengers! We can fit 3-4 people at a time, depending on size and weight. It can be a little tricky climbing in and out of the basket, but we hold it as steady as possible. There's no minimum or maximum age to ride, as long as you can get in and out, we'd love to have you! Everyone does need to sign a waiver before getting in line. (A parent or guardian will need to sign for anyone under 18 years old.)
We don't charge a fee to ride in the balloon, but we do ask for a suggested donation of $5 per rider. All the money that is donated is given to the Yankee Homecoming Committee.
It's important to know that the balloon can't fly if it's too windy or if it's raining, so there's a chance that this event might get cancelled. The pilot makes that decision, sometimes at the last minute. Unfortunately, there's no rain date because the balloon is booked out months in advance for various events.
We'll accommodate as many riders as possible before we run out of fuel. Usually, the tank lasts about 90 minutes. You'll want to consider arriving fairly early to be sure you get to ride!
This year we're running a contest to award a VIP Ride Pass – to enter, follow us on Instagram, find the contest post in our feed, and leave a comment telling us your favorite local spot to spend a summer day! The winner will be chosen on Thursday August 1 and will need to pick up their prize on Friday August 2 at our office in Newburyport. Good luck!
We will also be at Merrimac Old Home Days in Merrimac MA on Saturday August 10th on the Little League field at the Helen R. Donaghue School. Set up at 9:00am, rides start around 10:00am.