RE/MAX On the River has a rotating showcase of local art, a Miracle Wall, highlighting a selection of one artist's work every month. All pieces are available for purchase, with a portion of the proceeds donated to the Children's Miracle Network.
The newest Miracle Wall Artist is Robert Brennan. His artwork will be showcased from July 1st – August 31st. Stop by during office hours (M-F 9-5, Sat./Sun 10-4) to see his artwork in the lobby gallery for the next few months.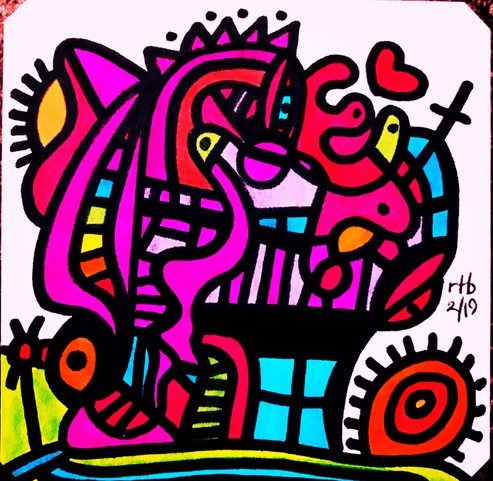 My name is Robert Brennan. I have always been an artist and I have been drawing and creating things since I was a boy. I love to make art that is boldly unique and colorful. I also appreciate others artists works as well and I often buy art from them. I am inspired by life, faces, nature, eyes, architecture, botany and of course color and the sky. I consider myself an abstract artist with a bit of a cubist twist. Naturally, I am a fan of Picasso and Salvador Dali and many others but I do not try to mimic anyone… I have developed my own unique style as you can see here today.
All of my works are original drawings. No prints or copies here and each piece is professionally framed with fine materials and framed with UV glass to preserve the integument of the work for many years. I draw by hand on quality museum paper (acid free) and I do not use rulers or measuring tools in any way.

I am a native New Englander- I actually grew up in Georgetown Mass. and I recently moved back to Mass. after 33 years in sunny San Diego. I have had many art exhibits in California over the years- mostly in coffee shops and book stores and several restaurants. I am also a retired RN and I am a disabled Navy veteran.
At present there is a lot of division in our society and the political climate is truly a tumultuous one. I feel that making art and sharing art is one way to keep us closer and unified. I like to make art for people and most of my work I have given away for free. We can color our world one sheet of paper or canvas at a time and this small creative act can make a big difference. There is nothing more gratifying to me than to make a special unique and colorful piece of art and to surprise someone with it. I hope that you enjoy my show and I hope that my art inspires you to keep on creating…. creativity is a big part of who we are as human beings and as Americans too. Making art is good for the mind, body and soul and of course our great country too.
– Robert Brennan
robzsdemail@gmail.com