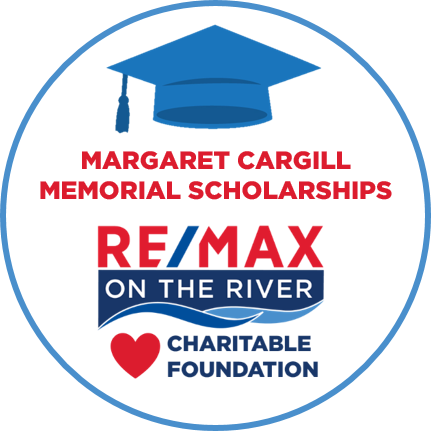 Each year, the RE/MAX On the River Charitable Foundation awards scholarships to a graduating senior from five local high schools.
This is the 8th year that the Charitable Foundation has awarded scholarships to students from Newburyport, Amesbury, Pentucket Regional, Masconomet Regional and Triton Regional High Schools. Students who have completed the necessary requirements to graduate, and who plan to attend a two or four year college or university are eligible to apply for the scholarship. Winners are chosen exclusively by their charitable contributions to their communities.
The scholarship is named in honor of Margaret Cargill, a beloved member of the RE/MAX On the River family who passed away in early 2017. Margaret was a generous contributor to the Charitable Foundation and believed strongly in giving back to our local communities. She was a friend and a mentor to so many, and is dearly missed by all those whose lives she touched; these scholarships are a reflection of her spirit and generosity.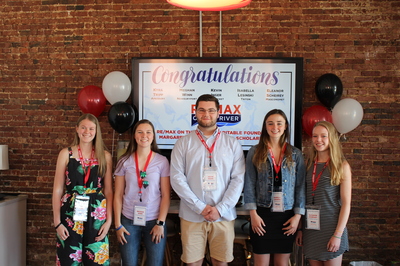 "I am so impressed by this amazing group of bright, caring and community-minded students that received our RE/MAX On the River's Margaret Cargill 2019 scholarships," said Sharon Cronin, Owner/Broker of RE/MAX On the River. "These young adults have worked hard to achieve their goals, and it is our privilege to contribute toward their future endeavors. Congratulations Kyra, Meghan, Kevin, Bella and Ellie!"
Our Newburyport office held a reception for the recipients, along with their families, RE/MAX On the River agents and staff on June 14th. "It was really nice to meet each of them and learn more about their individual contributions to their communities." Susan Hogan, Operations Manager at RE/MAX On the River remarked. "They are quite inspiring, and Margaret would have loved this. We're proud of them and we feel that each of them truly lives the purpose of the Charitable Foundation. We wish them all the best."
About the winners of the 2019 Margaret Cargill Scholarship:
Kyra Tripp

is a graduate of Amesbury High School. She will be studying chemistry at Worcester Polytechnic Institute.

Meghan Winn

is a Newburyport High School graduate. Meghan will be attending Franklin Pierce University in the fall.

Kevin Inger

is a graduate of Pentucket Regional High School. Kevin will be studying industrial engineering at Worcester Polytechnic Institute in the fall.

Isabella

Lesinski

is a Triton Regional High School graduate who will be attending the University of Tampa in the fall. She is enrolled in the Marine Biology/Environmental Sciences program.

Eleanor Scheirey

is a graduate of Masconomet Regional High school, and she will be attending the University of Wisconsin-Madison in the fall.